What is the release date of Redfall ?
Bethesda and Xbox have not given any news about Redfall since its release was postponed to 2022. However, gamers are eagerly awaiting this atypical FPS, between Far Cry and Left 4 Dead. The open-world shooter is by Arkane, the French studio behind Dishonored, Prey and Deathloop.
A new schedule was finally unveiled on January 25, during the Developer Direct.
Presentation of Redfall
Redfall is an action-adventure game from publisher Bethesda and Arkane Studios Austin, Texas. The American team is known for its work on Prey and Dishonored. As soon as the project was presented, gamers were eager to see the first images of this promising game.
In addition, the title will use the Unreal Engine from Epic Games.
Redfall will be more precisely an action-adventure FPS, open world and with vampires ! Through this formula, Arkane's ambitious project is already unique. Besides, Far Cry and Left 4 Dead are only evoked to have an idea of the concept. We'll have to wait for the game's release to be able to appreciate the result.
That said, Arkane Austin's talents are widely recognized in the video game industry.
The game will take gamers to Redfall, a Massachusetts town overrun by vampires. These creatures have caused permanent night, then enlisted mortals to build the Night Kingdom. Resistance is nevertheless beginning to be organized in order to avoid this outcome.
The player will be able to choose between four characters, with different origins and abilities, to fight the vampires and their followers.
An open world adventure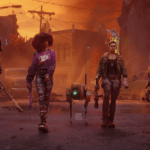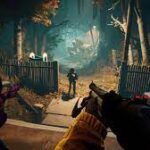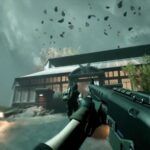 In the open-world game, the player will be able to freely explore the island city of Redfall while actively participating in the elimination of vampires. He will also have to remain vigilant in the face of hostile humans to carry out his various missions. As Arkane Austin pointed out, Redfall is not really a sandbox game.
The title has a narrative dimension and complex characters.
Similar to a single player game or'a free-to-play FPS, the story is indeed neat and exciting. The player will be able to obtain more information about this universe by completing quests and eliminating some bosses. This information can be valuable to finish other missions or understand the characters.
In addition, several important documents have been scattered in this world designed entirely by hand.
With each character, the player will be able to improve their abilities and customize their weapons as they explore. It will be an opportunity to discover its strengths and its role in the narrative arc. According to Bethesda, Arkane has done a particularly impressive job.
The postponements can therefore be explained by a desire to showcase this open world designed by hand.
Co-op play possible in Redfall ?
More than just a possibility, cooperation will be an integral part of Redfall's unique gaming experience. This is even an essential element of the gameplay, according to the developers. The FPS will actually offer a cooperative mode, with up to four players.
The whole campaign can be played in multiplayer mode.
On the other hand, Arkane Austin has not yet addressed the issue of PvP (player versus player) mode. The French studio has already proposed it in Deathloop. Many players hope to find the same formula in Redfall.
For now, Austin's team has only insisted on the importance of cooperation to defeat the vampires and their human army.
Team includes telekinetic student Layla Ellison, combat engineer Remi de la Rosa, supernatural sniper Jacob Boyer and cryptozoologist Dev Crousley. The latter is also a genius inventor. Thanks to his many talents, he is indispensable for creating effective weapons and revealing the secrets of vampires.
An Xbox exclusive ?
Redfall is one of the most anticipated Xbox exclusives of the year since 2022. Indeed, the game was first presented by Xbox and Bethesda for the summer following the E3 in June 2021. However, the publisher has announced that the original release date has been postponed to May 12, 2022.
After that, gamers were only given a vague timeline.
In any case, Redfall will be released exclusively on Xbox and PC. PlayStation 5 players will have to make do with Sony's exclusives for this year, at least for now. That said, they can always turn to the PC version, if they have a machine supporting Unreal Engine.
The game will also be available to Xbox Game Pass Ultimate holders.
Redfall release date revealed ?
Unlike the release date of Luna Abyss, the schedule is now official for the launch of Redfall. The new release date was revealed by Xbox and Bethesda during the Developer Direct, on January 25, 2023. The game will be available on Xbox Series (S and X) and PC from May 2, 2023.
It will also be available on day one in the Xbox Game Pass.
Redfall has benefited from a focus of more than 11 minutes during the Developer Direct. In addition to announcing the release date, the developers presented the gameplay of the game in 4K. Gamers were able to see Layla's and Dev's abilities as well as the spectacular details of the game. After this presentation, the wait became even more difficult for video game fans.
They do, however, have a definitive timeline this time around.