Facebook outage: which instant messaging apps to take refuge in ?
On October 4, 2021, Facebook's servers disappeared from the Internet for several hours due to technical problems. Thus, the failure has inevitably affected its apps: Messenger, Instagram and WhatsApp. The incident has affected billions of individuals worldwide, according to online crash watchers.
Since then, users are looking for alternatives to these instant messaging services.
October 4, 2021: a major breakdown at Facebook
In addition to its historical platform, Facebook is the owner of Instagram as well as instant messaging applications WhatsApp and Messenger. Each of these services has hundreds of millions, if not billions, of users. Mark Zuckerberg's group thus benefits from a unique status among social media.
It logically mobilizes many servers to manage this influx.
The October 2021 Facebook outage is explained by the interruption of communications between the group's data centers. The Data centers have stopped exchanging information with each other and ofto announce their presence on the Internet. As a result, users were unable to send instant messages all evening on October 4.
The crisis began around 6 pm.
The concern comes from a configuration error during an important BGP update, according to the company's explanations. As a reminder, this routing protocol allows you toto announce the presence of a site on the Internet and guide to its contents. Thus, a malfunction at this level disorients the routers, dislocates the servers and makes the platform unavailable.
The problem was nevertheless solved after midnight.
Instant messaging applications to use in case of FB failure
Before its acquisition in 2014, WhatsApp was a serious competitor of Facebook Messenger in the market of instant messaging applications. The service is characterized by an end-to-end encrypted system. This secure application also offers a sober and practical interface.
Logically, it has maintained its community and counted more than two billion users in 2020.
Messenger, for its part, remains the preferred messaging application for Facebook users. The social network has also redirected its messaging service to this application since 2014. Since 2020, Instagram also allows to merge its messaging with Messenger.
Thus, the Facebook group tends to be unavoidable in the world of instant messaging. However, there are still several alternatives.
Twitter
Facebook enthusiasts have found refuge on Twitter during the historical blackout of October 2021. The first tweets were mostly remarks and questions about network problems. The incomprehension gradually turned into annoyance and panic for some.
Meanwhile, Instagram has reported technical problems and posted an apology on its official Twitter accountel.
This tweet was followed by the apologies of the technical director of the group and the parent company itself. Over the hours, tweets of support or mockery have multiplied on the platform. Many memorable messages were posted by CMs of major brands and Messenger's competitors.
In other words, Twitter no longer has to prove its status in the industry. The platform is the first alternative to Facebook as a messaging service and social network. This application is especially appreciated for its huge community and its light-hearted style.
The team even welcomed the disaster victims to Facebook, with a touch of humor, during the evening.
Signal
The Signal messaging service is popular with open source enthusiasts and cybersecurity specialists. Indeed, the source code is open to audits and other expertise to the backend. This feature allows, among other things, to detect security breaches and to monitor data management.
Thus, this is an excellent alternative for users worried about their data.
On the other hand, Signal uses a high level of encryption for all information passing through the platform. The security of the mobile application has been praised by specialized sites and even Edward Snowden. Created by Open Whisper Systems, this app stands out for its transparency regarding security and privacy.
From a practical point of view, the application is cross-platform and remains easy to use on any support. It offers all the basic features of a messaging service. The tool allows you to make voice calls, chat, send SMS, share files, send photos, encrypt private chats… Moreover, registration requires only a phone number.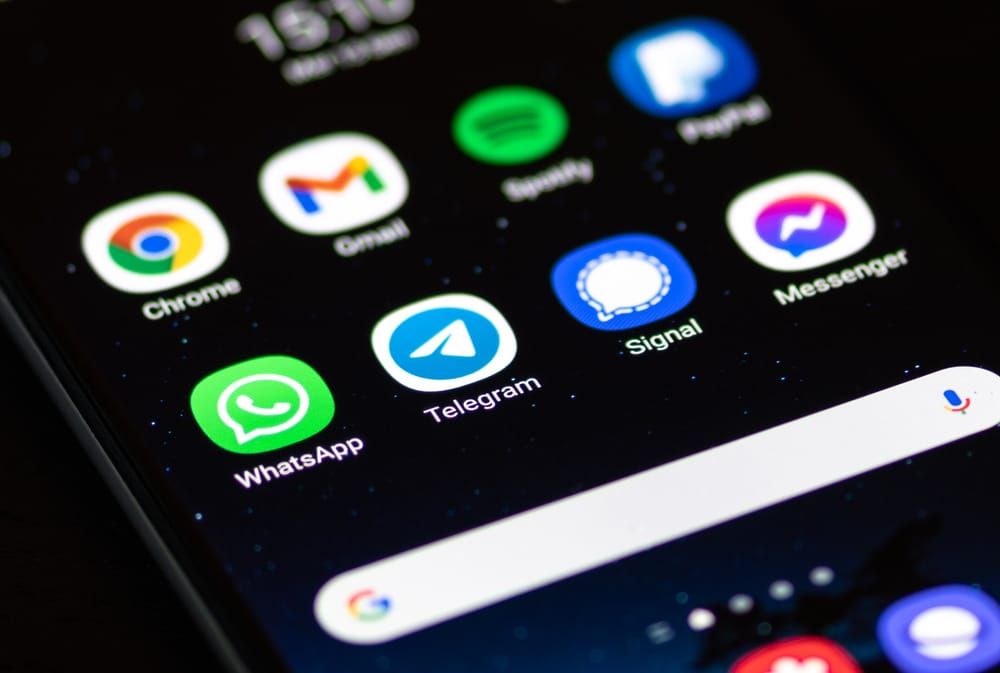 Telegram
The Telegram messaging service currently claims several hundreds of millions of active users every month. Its success comes largely from the many similarities with Messenger. Therefore, getting started is very easy for people familiar with instant messaging applications.
The platform assumes the inspiration, but wants to fill the gaps of Facebook services.
The instant messaging software is compatible with most current platforms, including Windows, Linux, macOS, Android and iOS. It even works on Windows Phone. Very simple, the application's interface makes it easy to use on a daily basis.
It allows quick access to its various functions (texting, chatting, file sharing, etc.).).
The security level is also interesting. However, only the frontend is open source. The backend code remains proprietary. In addition, encryption is not offered by default.
It still needs to be activated. Nevertheless, these initiatives are already important for the general public. The service uses high-level encryption and is committed to not storing user data.
Slack
Companies particularly appreciate the Slack application for its lightness and its practicality. Moreover, this service is often presented as the preferred chat messaging service for professionals. The app stands out for its ease of use and its collaborative side.
Instant communication effectively brings team members together.
Within a company, the invitation system allows administrators to manage the use of this tool. However, users benefit from an excellent level of privacy. Indeed, the channels and private messages are inaccessible without the participants' consent.
Even network managers do not have access to it.
Finally, Slack is compatible with a wide variety of third-party applications. It thus allows to create a central hub on his workstation. The application can integrate various tools such as StackOverflow, Jenkins, GitHub, Google Analytics, SalesForce, MailChimp, ServiceNow … It thus promotes worker productivity.
Discord
At the origin, Discord was a chat and VoIP service for gamers. Players could stay in touch outside of gaming sessions. This channel was mostly favored by MMORPG enthusiasts. They could their guilds before or after the campaigns to gain in efficiency.
To do this, all you had to do was create a private server and add your friends to the instant chat.
The platform has nevertheless diversified with time. From now on, the topics are not necessarily related to video games. There are for example groups dedicated to reading, music, cooking, etc.
In addition, you can get various tips from experienced users, if you join a Discord server provided for this purpose.
The confinements of 2020 also contributed to the democratization of this former gamers' network. During these periods, some teachers decided to get closer to students on the platform. Others, however, wanted to combine work and leisure in the same environment.
Moreover, this little-known channel was less prone to saturation compared to the most popular services.